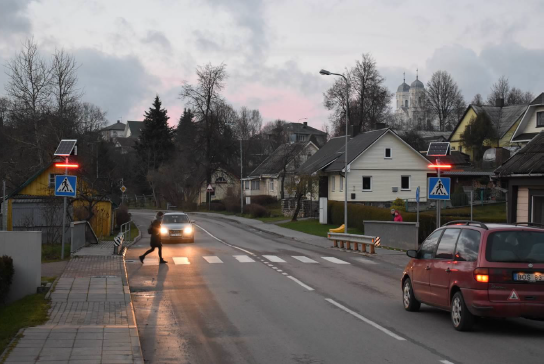 4 October 2018, The role of vehicle safety in Vision Zero, Vilnius
Spalio 4 diena, 2018 metai, 08.30-16.00
Diskusija vyko Europos namuose, Gedimino pr.16, Vilnius
Technologijų demonstravimas vyko Vilniaus autodrome, Mokyklos g. 21, 14182, Bukiškio k. Vilniaus r.
Lietuvos Respublikos Susiekimo ministerija, Europos Komisijos atstovybė Lietuvoje ir Europos Transporto saugos taryba rengė saugaus eismo diskusiją Vilniuje. Renginio metu susisiekimo ministras Rokas Masiulis tarė sveikinimo žodį. Diskusijos tema – automobilių saugos reikšmė siekiant nulinės vizijos. Po diskusijos Vilniaus autodrome vyko autonominio avarinio stabdymo bandymas.
Spauskite čia, norėdami parsisiųsti renginio programą.
4 October 2018, 08.30-16.00
Venue of the discussion: House of Europe in Lithuania, Gedimino pr.16, Vilnius
Technology testing: Vilnius Autodrome, Mokyklos g. 21, 14182, Bukiškio k. Vilniaus r.
Ministry of Transport and Communications, European Commission Representation in Lithuania and European Transport Safety Council held the Road Safety Performance Index (PIN) Talk in Vilnius on 4 October 2018. Rokas Masiulis, Minister for Transport and Communications, welcomed the participants. The discussion focused on the role of vehicle safety in reaching vision zero. The discussion was followed by a vehicle technology demonstration.
Click here to download the agenda.
Presentations:
Road Safety Performance Index – Lithuania within the EU, Dovile Adminaite, ETSC
Road Safety in Lithuania – the road towards vision 0, Vidmantas Pumputis, Susisiekimo ministerija
The EU proposal on the General Safety Regulation – what is the potential of new vehicle
safety standards to contribute in delivering on EU targets? Antonio Avenoso, ETSC
Car safety ranking – stars on cars, Alled Williams, Euro NCAP
Roads that cars can read, Marianne Dwarshuis, Euro RAP
Adapting Lithuanian road infrastructure for new in-vehicle technologies, Andrius Teskevivius
The significance of forefront road identification for vehicle dynamics and safety, Vidas Zuraulis, VGTU
Technical trends of driver assistance and automated driving, Vincent Legagneur, TME
Safety technologies in heavy duty vehicles, Laurent Decoster, Volvo Group