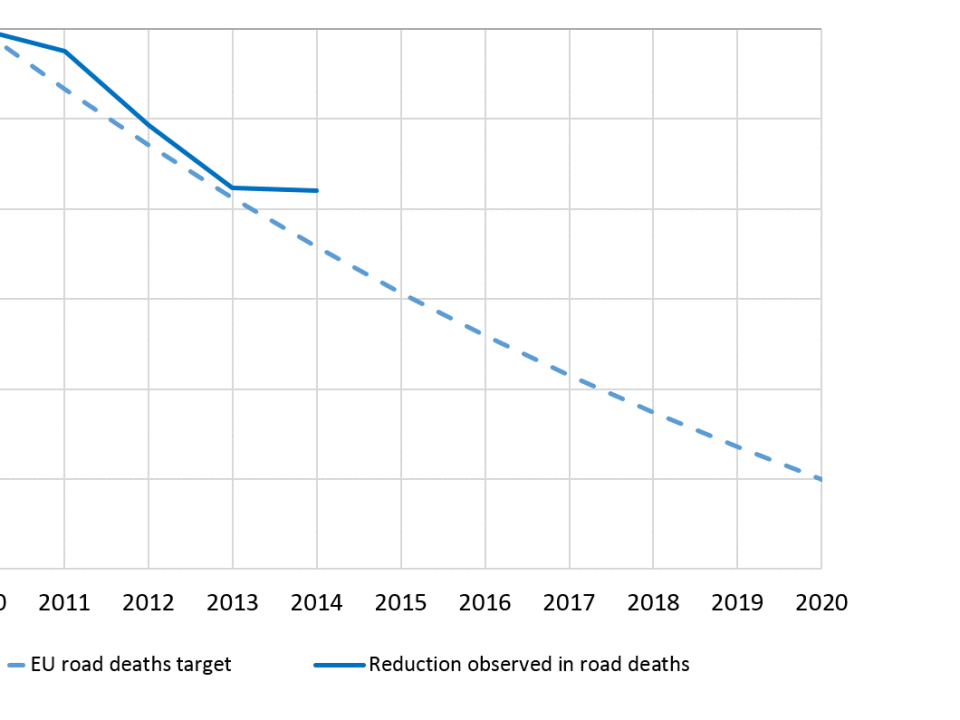 EU road safety targets at risk as deaths increase in France, Germany and UK
Worst annual reduction in EU road deaths since 2001
25,845 people killed on roads in EU28 in 2014 as a consequence of road collisions (decrease of just 0.6% compared to 2013)
Almost 8% reduction now needed every year between 2015 and 2020 in order to reach the EU target for 2020 to halve the number of road deaths compared to 2010
203,500 people recorded as seriously injured by the police in the 23 EU countries that distinguish between serious and slightly injured in their data (increase of 3% compared to 2013)
Slovenia receives 2015 Road Safety Performance Index (PIN) award for substantial long term progress and high level political commitment to road safety
Progress on reducing road deaths in the EU slowed to just -0.6% last year, the worst annual reduction since the first common EU target was set in 2001, according to new analysis published today by the European Transport Safety Council. EU member states now need to cut deaths by almost 8% each year until 2020 to meet the target set in 2010 to halve deaths within a decade.
France, Ireland, Germany and the UK were among the 12 EU member states that saw an increase in the number of road deaths last year compared to 2013. On a positive note Croatia, Slovenia, Finland, Greece, Luxembourg and Malta all recorded reductions of around 10% or more.
Antonio Avenoso, Executive Director of the ETSC commented:
"These latest figures reinforce the message that road safety requires consistent political support at the highest level, constant vigilance on enforcement and network safety management, and the need to respond to evolving challenges such as increased numbers of people walking and cycling and an ageing society.  It's very disappointing to see the UK, a road safety champion, dropping its guard in recent years: we are now seeing the fallout with progress slowing and even going into reverse."

"Slovenia, our 2015 PIN Award winner, deserves huge credit for its commitment to robust targets, establishment of a dedicated road safety agency and a detailed plan of action. Nevertheless, Slovenia has a lot of work still to do to close the gap with the safest countries."
Slovenia has reduced annual road deaths by 61% since 2001.  The country's long term progress and high-level commitment to road safety will be recognised at an event being held today in Brussels. ETSC will present its annual Road Safety Performance Index (PIN) award to Peter Gašperšič, Slovenia's Minister of Infrastructure.
Today's new figures show that in 2014, more than 200,000 people were seriously injured in road collisions, a rise of 3% in one year. The numbers of people suffering life-changing injuries have fallen more slowly than deaths for several years and even increased last year.  ETSC is deeply concerned that a planned EU strategic target to reduce serious injuries appears to have been dropped despite being repeatedly promised by the current European Commission (1).
ETSC is calling for the EU to commit to making key safety technologies such as Automated Emergency Braking (AEB), overridable Intelligent Speed Assistance (ISA), intelligent seat belt reminders for passenger seats and an interface for alcohol interlock devices to be made standard on all new vehicles. A proposal for revised vehicle safety standards is expected later this year.
The 2015 ETSC PIN report can be downloaded from https://etsc.eu/3asD4.
Notes to editors
(1) See: https://etsc.eu/commission-road-safety-review-leaves-out-serious-injury-target/
L'objectif stratégique de l'Union européenne en matière de sécurité routière menacé par la hausse de la mortalité routière en France, en Allemagne et au Royaume-Uni
2014 : Plus mauvaise réduction annuelle du nombre de tués sur les routes européennes (UE28) depuis 2001.
25 845 personnes ont été tuées sur les routes européennes (UE28) en 2014,  il s'agit d'une baisse de seulement 0,6% par rapport à 2013.
Une réduction annuelle moyenne de 8% est désormais nécessaire entre 2015 et 2020 afin d'atteindre l'objectif de l'UE pour 2020 : réduire de moitié le nombre de morts sur les routes par rapport à 2010
Plus de 203 500 personnes comptabilisées comme gravement blessées par la police dans les 23 pays de l'UE dont les données font la distinction entre blessés graves et blessés légers dans leurs données (augmentation de 3% par rapport à 2013)
La Slovénie reçoit le Prix PIN 2015 « Road Safety Performance Index »,  célébrant la continuité des progrès réalisés et l'engagement politique nécessaire pour la réalisation des objectifs européens de réduction de la mortalité routière
Les progrès relatifs à la réduction de la mortalité routière dans l'Union européenne ont marqué un brusque ralentissement avec seulement 0,6% l'an dernier. Il s'agit de la plus mauvaise réduction annuelle depuis la mise en place en 2001 du premier objectif  européen, selon une nouvelle analyse publiée aujourd'hui par le Conseil européen de la sécurité des transports. Les Etats membres de l'UE doivent désormais réduire la mortalité de près de 8% chaque année jusqu'en 2020 pour répondre à l'objectif fixé en 2010 de réduire de moitié les décès au sein d'une décennie.
La France, l'Irlande, l'Allemagne et le Royaume-Uni font partis des 12 Etats membres de l'UE qui ont vu une augmentation du nombre de morts sur les routes l'an dernier par rapport à 2013. Ces résultats contrastent avec ceux enregistrés par la Croatie, la Slovénie, la Finlande, la Grèce, le Luxembourg et Malte qui affichent des réductions d'environ 10% et au-delà.
Antonio Avenoso, Directeur Exécutif de l'ETSC a ajouté:
"Ces derniers chiffres renforcent le message fondamental que la sécurité routière nécessite un soutien politique constant et ce au plus haut niveau, une vigilance renforcée sur les contrôles et la gestion du réseau routier ainsi que la nécessité de s'adapter et répondre aux nouveaux défis tels que l'augmentation du nombre de piétons et de cyclistes ou une meilleur prise en compte du vieillissement de la population. Il est très décevant de voir le Royaume-Uni, un champion de la sécurité routière, relâcher les efforts au cours des dernières années: nous assistons à présent à la retombée des efforts voire pire, à des régressions quant aux résultats obtenus.
"La Slovénie, notre lauréat 2015 du Prix PIN, mérite une considération toute particulière quant à son engagement sur de solides objectifs, la création d'une agence spécialisée de sécurité routière et un plan d'action détaillé. Néanmoins, la Slovénie doit poursuivre son travail et ses efforts, notamment pour combler l'écart avec les pays les plus sûrs. "
La Slovénie a réduit la mortalité routière annuelle de plus de 61% depuis 2001. La continuité des efforts et l'engagement au plus haut niveau pour la sécurité routière seront célébrés lors d'un événement qui se tient aujourd'hui à Bruxelles. ETSC décernera son prix annuel (PIN) indice de performance de la sécurité routière à Peter Gašperšič, Ministre slovène des Infrastructures.
Les données publiées aujourd'hui par l'ETSC montrent qu'en 2014, plus de 200.000 personnes ont été grièvement blessées sur les routes européennes, représentant une hausse de 3% en un an. Le nombre de personnes grièvement blessées a diminué plus lentement que le nombre de personnes tuées ces dernières années et a même augmenté l'an dernier. ETSC regrette que l'annonce d'un objectif européen de réduction des blessés ait été abandonnée, contrairement aux promesses faites récemment par la Commission européenne (1).
L'ETSC appelle l'UE à rendre obligatoire sur tous les nouveaux véhicules les technologies de sécurité clefs, tels que le freinage d'urgence automatique (AEB), le LAVIA ou Intelligent Speed Assistance (ISA), les rappels de port de la ceinture de sécurité pour les sièges passagers, ainsi qu'une interface standardisée pour les éthylotests anti-démarrage (EAD). Une mise à jour des normes européennes de sécurité des véhicules est prévue plus tard cette année.