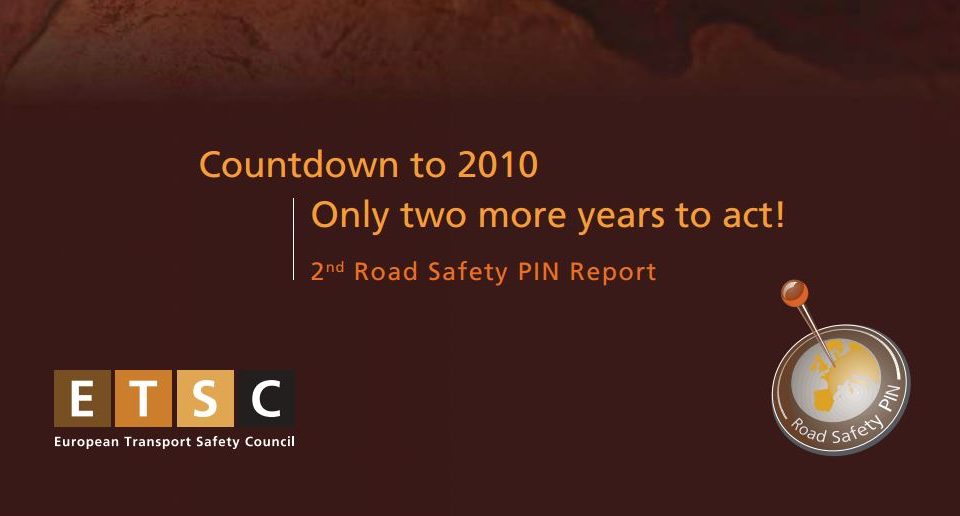 2nd Annual Road Safety Performance Index (PIN) Report
This 2nd PIN Report provides an overview of European countries' performance in four areas of road safety. It builds on the 1st Road Safety PIN Report published in June 2007. It shows how countries have progressed in reducing road deaths between 2001 and 2007, and how they perform in protecting two particularly at risk road user groups: the elderly people and motorcyclists. It also gives an overview of the striking disparities in motorway safety as the EU adopts a European Directive on
road infrastructure safety management.
These rankings have been carried out during the second year of the Road Safety Performance Index (PIN) between September 2007 and June 2008. They cover 30 countries, including all 27 Member States of the European Union, together with Israel, which has joined the PIN programme during this second year, Norway and Switzerland.
Progress toward the target
The European Union has set itself the ambitious target of reducing the yearly number of road deaths by 50% between 2001 and 2010. Comparison of developments up to 2007 shows that France, Portugal andLuxembourg have progressed best over the past six years. If these three countries maintain their efforts they will reach the target ahead of 2010. Belgium, Germanyand Switzerlandhave also reduced their road death toll considerably since 2001 and may halve the number of road deaths by 2013. While the first four countries have a medium level of safety, Germany and Switzerland have been frontrunners in Europe for some time. This confi rms that fast progress in road safety is possible for all countries, whatever their starting point. Other countries have progressed to a lesser extent. In Romania, Slovenia, Lithuania, Slovakia and Poland, the number of road deaths was higher in 2007
than in 2001.
For the first time since 2001, 2007 saw no reduction in the total number of road deaths in the EU. If current trends continue, the European Union will only reach its target in 2018. Strong leadership is needed to bring about renewed efforts ahead of 2010 and make up for lost time.
Reducing motorcyclist deaths
At least 6,200Powered Two Wheeler (PTW) riders were killed in road crashes in 2006 in the EU 25. Accounting for only 2% of the total kilometres driven, PTW riders represented 16% of the total number of road deaths. It is well known that motorcyclists face a much higher risk of being killed than other road users. For the same distance travelled, the risk for riders to be killed in road accidents is on average 18 times the risk of being killed in traffic for car drivers. This figure is shocking in itself, but the country-bycountry variation in the rider/driver risk ratio is just as striking: from 6 times in Norway, safest for motorcycling, to 50 times in Slovenia, the most dangerous for riders by any measure. Whereas the total number of road deaths has declined in the past decade in Europe, the number of killed PTW riders rose in 13 out of 27 countries. Between 2001 and 2006, in particular, PTW rider deaths decreased on average by less than 1.5% yearly across Europe.
Riding a motorcycle will inevitably carry more risk than driving a car. However, the examples of best performing countries show that the implementation of dedicated safety measures can substantially improve PTW safety.
Motorway safety
Over 3,200 people are killed annually on EU motorways. The number represents just 8% of the total number of road deaths in the EU and has been going down steadily. Yet, the striking disparities in motorway safety between European countries are a cause for concern. Among the PIN countries, motorways are safest relative to vehicle-km driven in Switzerland, Denmark and the Netherlands. In the past decade,Switzerland andSlovenia scored the highest average yearto-year reductions in deaths per billion vehicle-km on motorways. Drivers on Southern and Central European countries' motorways, however, are exposed to higher risks of death.
It is not acceptable that the safety on motorways differs so considerably among European countries especially at the time of the development of the Trans-European Transport Network. The EU should not miss this opportunity and should adopt an infrastructure safety Directive to guarantee that safe infrastructure management is applied across Europe.
Reducing older people's deaths
Over eight thousand people aged 65 years old and over are killed in the EU27 annually. Per population, the risk of death in a road accident for an elderly road user is on average 16% higher than for a younger road user. The country comparison shows that the differences between countries are huge. Malta, the UK and Swedenare the safest places for elderly people using the roads, whereas Lithuania, Cyprus and Poland are the most dangerous ones.
Today older people account for some 17% of the European population. If current demographic trends continue by 2050 they will make up 30%. If their road safety level is not improved, one road death out of three is likely to be an elderly person in 2050. This report recommends the adoption of a series of measures to avoid each one of us finding ourselves at growing risk of being killed on the road as we grow old.
Download