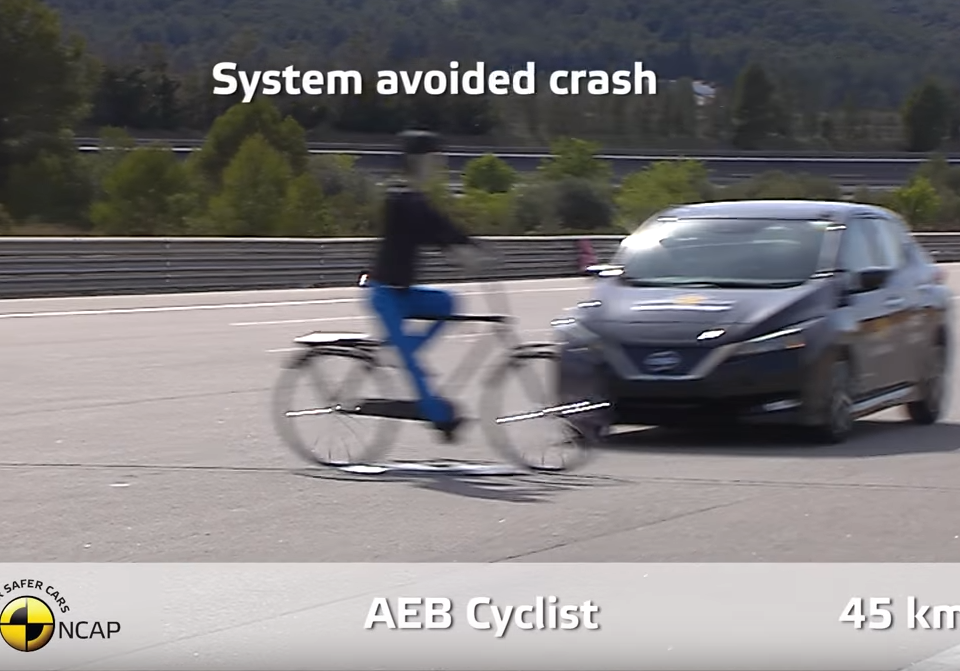 Latest Euro NCAP five-star rating scheme includes cyclist-detection Autonomous Emergency Braking
The 2018 Nissan Leaf electric car is the first to be awarded five stars by Euro NCAP, the consumer new car testing programme under a new tougher regime that includes a test for autonomous emergency braking systems that can detect cyclists.
ETSC welcomed the inclusion of more technology that can help save the lives of vulnerable road users outside the vehicle.  Carmakers' focus in recent years has been on protecting vehicle occupants, with deaths among that group falling at a faster rate than those of cyclists and pedestrians.  Earlier this month the Netherlands announced that more cyclists died last year on Dutch roads than car occupants.
Euro NCAP has been awarding additional points for Autonomous Emergency Braking schemes for several years.  But the first systems could only detect other large motorised vehicles. More sophisticated systems that could detect pedestrians were added later.  The 2018 changes include a test on pedestrian detection in the dark and, for the first time, cyclist detection.
The Nissan Leaf is the first car to have its AEB system tested for both pedestrian and cyclist detection.  The award of five stars for another all electric vehicle also shows that environmentally-friendly vehicles do not need to make any compromise on safety.  A number of hybrid and fully electric vehicles from several manufacturers have been awarded five stars in recent years.
See: Euro NCAP video and press release