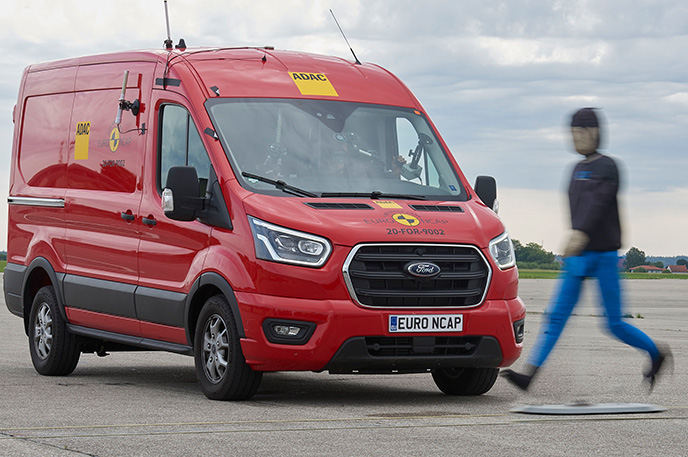 Euro NCAP publishes latest van safety ratings and announces HGV rating scheme
Euro NCAP, the European New Car Assessment Programme, has released the latest results of its Commercial Van Safety Rating, which was launched in 2021. The assessment aims to encourage the use of advanced driver assistance systems (ADAS) to prevent or mitigate crashes involving commercial vans.
In 2023, Euro NCAP tightened up the criteria for these ratings and released the results for eighteen vans that have been tested under the new conditions. The Fiat Ducato, which was rated Platinum last year, once again tops the list but drops to a Gold rating under this year's tougher protocol. The Nissan Interstar retains its position and continues to be rated Not Recommended based on its lack of crash avoidance systems. The Ford Transit achieved a Gold rating, while the Mercedes-Benz Vito dropped from Gold to a Silver rating, joining the Mercedes-Benz Sprinter, Volkswagen Transporter, the Renault Trafic, Nissan Primastar, and Volkswagen Crafter. Those that achieved a Bronze Rating were the Citroën Jumpy, the Citroën Jumper, Iveco Daily, Opel/Vauxhall Vivaro, Opel/Vauxhall Movano, Peugeot Expert, Peugeot Boxer, Renault Master, and Toyota PROACE.
Euro NCAP's new criteria for Commercial Van Ratings takes ADAS to a higher level with greater emphasis on vulnerable road users, including pedestrian safety, with a focus on night-time scenarios, cyclists, and the introduction of one new van-to-car crash scenario. Euro NCAP is planning to ensure that, by 2026, vans will be expected to meet the same ADAS requirements as passenger cars.
The introduction of this rating scheme for commercial vans could be a significant step towards increasing road safety, as crashes involving vans tend to be more severe for their opponent vehicles and vulnerable road users. Euro NCAP believes that ADAS technology can help prevent or mitigate the consequences of these crashes. The rating scheme encourages manufacturers to maintain the impetus to innovate and make available the latest safety technologies in all vehicles on European roads.
Euro NCAP also wants to address the safety of larger and heavier trucks (HGVs). Later in 2023, the organisation will launch a new rating scheme for this vehicle category.