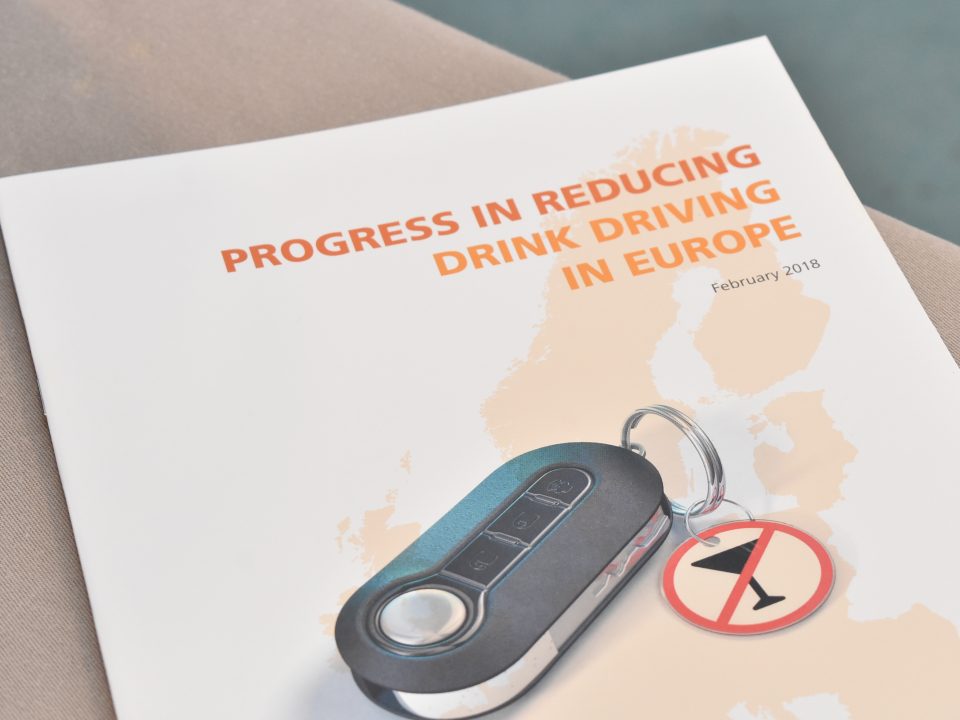 20 February 2018 – Reducing Drink Driving in Europe, European Parliament, Brussels
Lunch debate, Members' Salon, European Parliament, 20 February 2018, 12:30 – 14:30
This event was kindly hosted by Dieter-Lebrecht Koch MEP.
Up to a quarter of the 26,000 deaths on European roads each year are estimated to be alcohol-related.
Improved enforcement, lower blood alcohol limits, alcohol interlocks, awareness campaigns and rehabilitation programmes are some of the measures in place across Europe to tackle the scourge.
But for the European Union to meet its road safety targets, more will need to be done in the near future at Member State and EU level.
The event also marked the launch of a new ETSC report on the state of the art on drink driving programs around Europe with recommendations for national and EU policy makers.
Download the report.
Read the press release.
Download the agenda here.
Presentations
Media highlights
RTBF (BE-FR) – 20% des décès sur les routes européennes sont liés à l'alcool
Metro (BE-FR) – Plus de 5.000 morts sur les routes de l'UE à cause de l'alcool
Metro (BE-NL) – Meer dan 5.000 verkeersdoden per jaar in EU te wijten aan alcohol
HLN (BE-NL) – Ruim 5.000 verkeersdoden per jaar in EU te wijten aan alcohol
El Vigia (ES) – La ETSC exige dispositivos antialcohol en todos los vehículos profesionales nuevos
Horsens Folkeblad (DK) Sprut bag rattet. Flere alkolåse er vejen frem
L'Avenir (FR) Plus de 5 000 morts sur les routes européennes à cause de l'alcool
EU News (IT) – Se sei ubriaco l'auto non parte, l'idea per ridurre i morti sulle strade dell'Ue
Il Secolo XIX (IT) Un blocco per chi si mette alla guida ubriaco, la proposta al vaglio dell'Ue
ItaliaStar Magazine (IT) – Sulle strade europee troppi morti per l'alcol
Teraz (SK) – V roku 2016 zavinil alkohol pätinu obetí dopravných nehôd v EÚ
Nieuwsblad Transport (NL): 'Alcoholslot op alle trucks en bestelauto's'
InfoTrucker (RO) – ETSC cere echiparea standard a tuturor vehiculele comerciale noi cu aparate etilotest
AutoExpress (UK) Safety body calls for mandatory alcohol interlocks
Thank you to Dieter-Lebrecht Koch MEP for hosting a launch event in @europarl for our new report on drink-driving. https://t.co/Swrn2uwBU3 #smart pic.twitter.com/h4Bgd10uXX

— European Transport Safety Council (@ETSC_EU) February 20, 2018
Debating progress in reducing drink driving in Europe at the EU Parliament. Key message and agreement that there needs to be more police enforcement. @TISPOLorg pic.twitter.com/ZoRARYIxZP

— Road Safety Support (@road_ss) February 20, 2018
Dovile Adminaite presenting @ETSC_EU recommendations for preventing alcohol related road accidents. pic.twitter.com/U14kRukFtE

— Kalle Parkkari (@KalleParkkari) February 20, 2018
Erik Ernita @EEinEU describing Estonia's impressive success in reducing drink-driving deaths. Find out more in our report: https://t.co/Swrn2uwBU3 #smart pic.twitter.com/cRN9K6X6JG

— European Transport Safety Council (@ETSC_EU) February 20, 2018
Our new report calls for mandatory alcohol interlocks in all new professional vehicles in Europe and retrofitting for cars driven by drink-driving offenders. https://t.co/Swrn2uwBU3 pic.twitter.com/KSv1g8uNnG

— European Transport Safety Council (@ETSC_EU) February 20, 2018