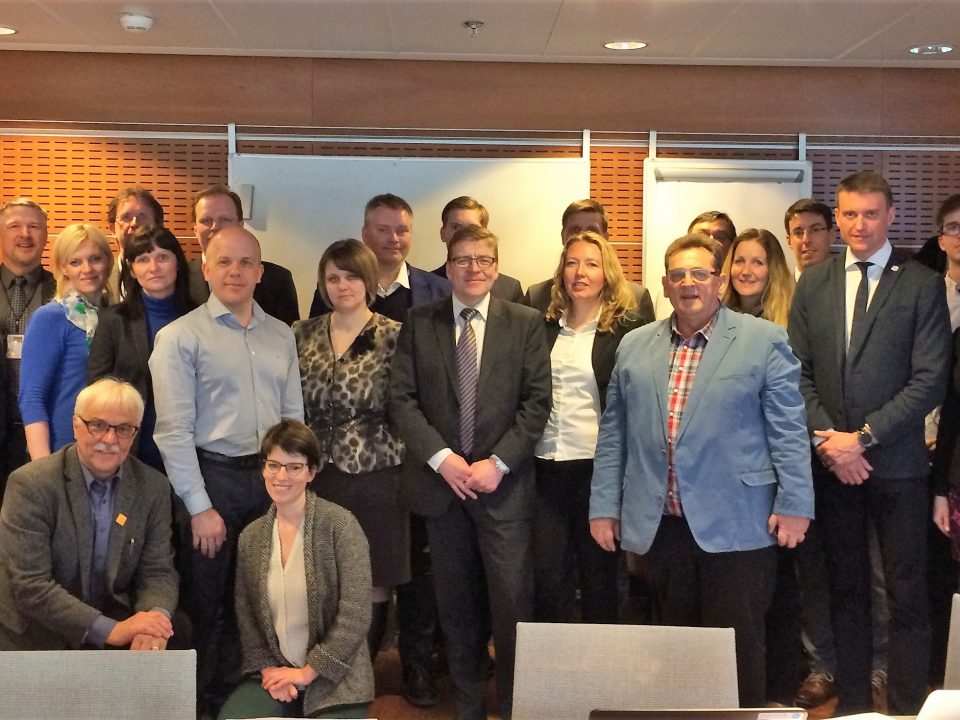 12 April 2017 – REVIVE Round table, Helsinki
First REVIVE Round table focused on improving post-collision outcomes in Estonia, Finland, Latvia, Lithuania, Sweden, and Norway
In the framework of the REVIVE Project, experts from the Emergency Medical Service (EMS), Rescue/Fire Service (RFS) and Road Transport Safety representatives from Estonia, Finland, Latvia, Lithuania, Sweden, and Norway met in Helsinki on the 12 April 2017. In the first regional REVIVE round table, they discuss the way forward for improving post-collision response and emergency care. The meeting gathered representatives from Ministries of the Interior, Health, and Transport, their respective agencies as well as researchers and other actors active in road safety. The event has been co-organised with the Finnish Transport Safety Agency and the European Federation of Road Traffic Victims.
Presentations
REVIVE Round table, Finland, 12 April 2017
Graziella Jost – ETSC – REVIVE
Jeannot Mersch – FEVR, Chair of REVIVE Round table
Emergency Response Management
Nerijus Mikelionis mentioned ongoing efforts in EMS Lithuania to reduce the number of emergency dispatch centres. Steinar Olsen talked about the evaluation of EMS in Norway that followed the attacks which hit the country in 2011 and subsequent change in patient triage. Lina Gyllencreutz gave a presentation about Swedish EMS with a special focus on training in pre-hospital care. The presentations were followed by a Q&A session.
Nerijus Mikelionis – EMS Lithuania
Lina Gyllencreutz – EMS Sweden
Then, in the following session, Bengt Dalström of Toyota Sweden introduced an example of collaboration with Folksam, the Swedish insurance company. The main aim of this initiative is to analyse results of road collisions and based on this to improve vehicle safety. Subsequently, Mikael Erneberg of EVAM System, a Swedish company, introduced a possible solution for ambulance vehicles to alert nearby car drivers in a safe and timely manner about the emergency vehicle approaching. Such a warning system, which uses in-vehicle radio systems in driver's cars, is being tested in several Swedish cities.
Bengt Dalstrom – Toyota Sweden
Rescue from a Road Collision
In the following part of the meeting, Taito Vainio talked about the work of Rescue and Fire Service in Finland. He mentioned that all the calls are directed to one 112 center, where call takers inform the other services. He highlighted that Finnish RFS are trained to provide emergency medical care. Then, Rasmus Laar presented Estonia's approach to tackling road collisions and their key rescue strategies. These two presentations were followed by an open debate. The issues raised during the discussion included questions about the responsibilities of the main leader at the scene in different countries or use of rescue sheets.
Both EMS and RFS debates have addressed the issue of collaboration with other forces intervening at a scene of a road collision, such as first and second responders. Close cooperation, in particular with traffic police and road transport authorities, was mentioned as crucial.