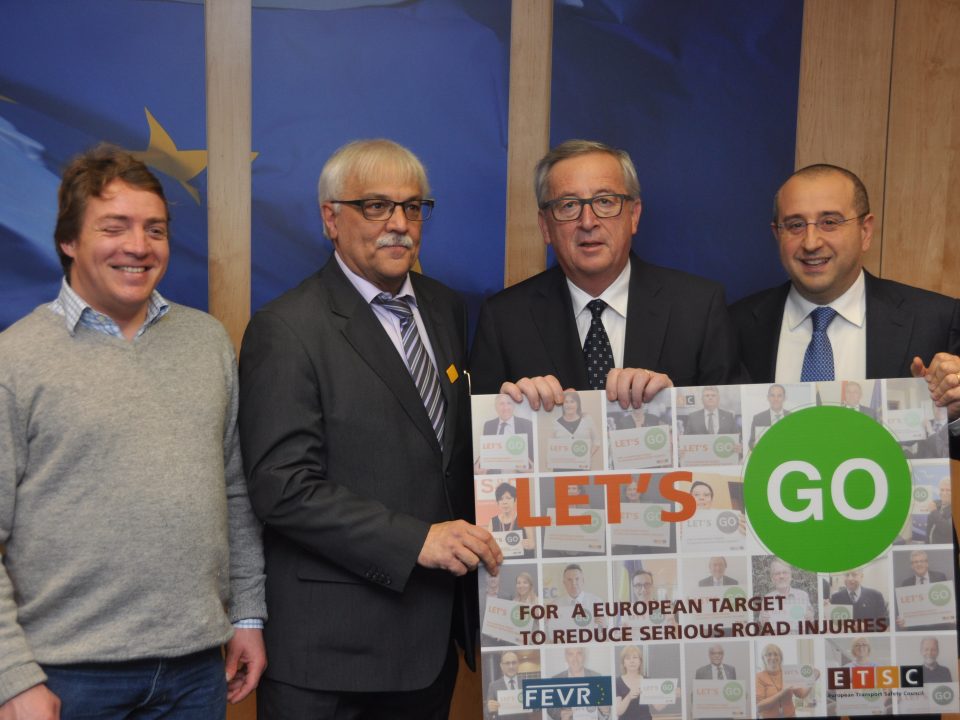 Road safety campaigners meet Juncker to ask for EU serious injury reduction target
Jean-Claude Juncker, President of the European Commission met earlier today with road safety and road victims groups to discuss the future of European road safety targets.
Representatives of the European Transport Safety Council (ETSC) and the European Federation of Road Traffic Victims (FEVR) presented the President with a banner representing the 'Let's Go' campaign, which calls for a new European target to reduce serious road injuries, alongside an existing target to reduce deaths by half by 2020.
More than 200,000 people suffer life changing injuries on Europe's roads every year, and the numbers increased by 3% in 2014. The campaign's supporters include seven EU member state transport ministers, MEPs from across the political spectrum as well as campaigners and experts from more than 70 organisations across Europe.
The European Commission had been planning to introduce a serious injury reduction target until last year and the concept had already gained support from both the European Parliament and EU member states.
Commenting on today's meeting Antonio Avenoso, Executive Director of the European Transport Safety Council (ETSC) said:
"EU targets have been a very successful driver of reductions in road deaths with several countries cutting deaths by more than 60% since 2001. But in recent years, progress on reducing serious injuries has slowed to a halt, and even gone into reverse. Our message to President Juncker today is that a European road safety target is a simple, cheap, non-controversial and necessary step – there is no good reason to delay European action further."
Jeannot Mersch, President of the European Federation of Road Traffic Victims (FEVR) said:
"On behalf of the millions of seriously injured road traffic victims and their families across Europe, we are grateful to President Juncker for the opportunity to make the case to him directly for a European serious injury reduction target. Many of the injured feel that they are the 'forgotten' victims of road collisions. We sincerely hope that President Juncker will take this cause to heart and make it a priority for immediate action."
Photo, left to right:
Tanguy Nolet, Campaigner on behalf of road victims, Belgium
Jeannot Mersch, President of the European Federation of Road Traffic Victims (FEVR)
Jean-Claude Juncker, President of the European Commission
Antonio Avenoso, Executive Director, European Transport Safety Council