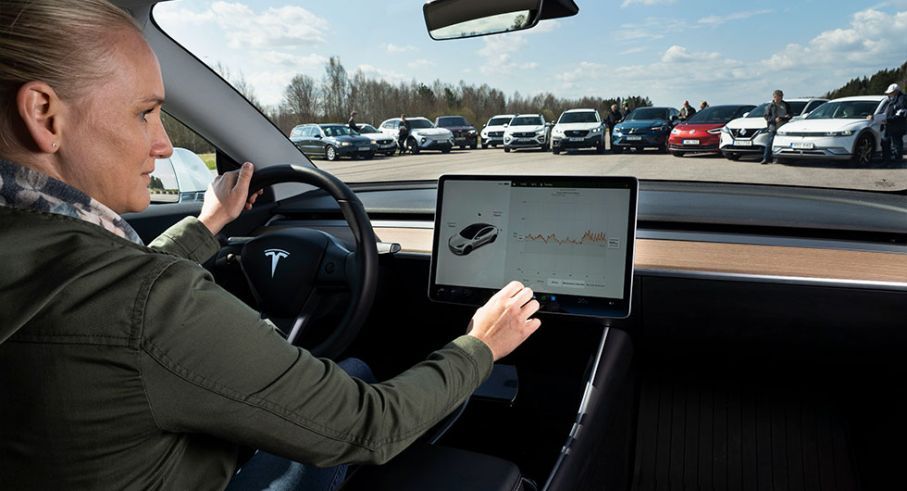 Physical buttons outperform touchscreens in new cars
Drivers take much longer to perform regular tasks on in-vehicle touch screens compared to physical buttons and switches, according to tests carried out by a Swedish motoring magazine.
Vi Bilägare selected 11 modern cars from different manufacturers for tests at an airfield, measuring the time needed for a driver to perform different basic tasks, such as changing the radio station or adjusting the temperature. At the same time, the car was driven at 110 km/h (68 mph). A 17 year-old Volvo, without a touchscreen was selected, for comparison.
Drivers had time to get to know the cars and their infotainment systems before the test began.
According to the magazine's conclusions, the easiest car to understand and operate, by a large margin, was the 2005 Volvo V70. The four tasks were handled within ten seconds during which the car drove 306 meters at 110 km/h.
At the other end of the scale, was the Chinese electric car, the MG Marvel R. The driver needed 44.6 seconds before all the tasks were completed, during which the car had travelled 1,372 meters – more than four times the distance compared to the old Volvo.
The BMW iX and Seat Leon performed better, but both were still too complicated. The driver needed almost a kilometre to perform the tasks.
Despite also being fitted with touch screens, the Dacia Sandero and Volvo C40 performed even better, according to the authors – perhaps due to a more limited feature set and simplified design. But completing the tasks in those vehicles still took a third longer than in the old Volvo, during which the vehicle travelled an additional 100 meters.
Research by TRL in the UK in 2020 found that mobile phone interfaces for car touch screens, known as Apple CarPlay and Android Auto, reduced reaction times as much as drink or drug driving.
Photo: Glenn Lindberg/Vi Bilägare