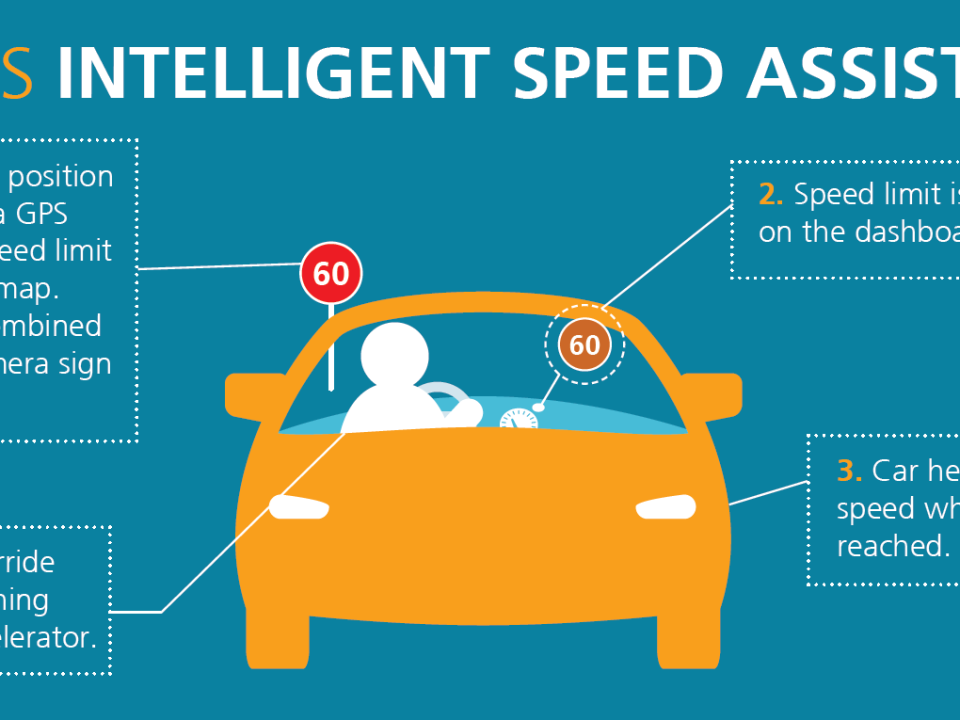 Ministers warned weakening of vehicle safety regulations could lead to up to 1300 extra road deaths a year
ETSC, together with a coalition of organisations, has written to all 27 EU Transport Ministers and Industry Ministers expressing concern that vital new EU vehicle safety standards, set to come into force from 2022, could be set for a severe blow.
The European Union agreed last year that all new cars, vans, lorries and buses should be fitted as standard with a range of new vehicle safety technologies, starting in 2022.  The measures are predicted to prevent 25,000 road deaths within fifteen years, according to analysis carried out for the European Commission.
The most important of these new technologies is Intelligent Speed Assistance (ISA), an overridable system that helps drivers keep within the legal speed limit by providing feedback on the accelerator when the limit has been exceeded.
Inappropriate speed is still one of the biggest killers on EU roads. Around a third of fatal collisions involve at least one party driving at an inappropriate speed, with cyclists and pedestrians being particularly susceptible.
But at an expert meeting held online on 9 November to discuss updated draft technical specifications for the ISA system, the European Commission presented a range of possible options for ISA, including a weaker, untested system that would use only a series of audio beeps when the speed limit is reached, rather than direct feedback on the accelerator.   Officials from France, Germany, Italy and Sweden said they supported the proposals; all four countries have significant automotive industries.
Swedish, together with German officials, signalled that they would also like to see an even weaker speed limit information function as an option instead of ISA.  The car industry lobby argued for the same change before the new vehicle safety regulations were agreed last year, but the request was refused.
TRL, the UK Transport Research Laboratory, which carried out analysis for the European Commission's original proposals, have estimated that fitting a speed limit information function instead of an ISA system would lead to 1300 extra deaths a year in the EU.
Antonio Avenoso, Executive Director of ETSC said:
"Intelligent Speed Assistance technology, if implemented in the right way, could be as important for road safety as the seatbelt, which, as everybody knows, was invented in Sweden. We would like to see every EU Member State, but especially road safety leaders such as Sweden, supporting, not harming, efforts to raise minimum vehicle safety standards in Europe."
ETSC says the best available options for ISA are either "haptic feedback", which uses increased resistance on the accelerator pedal, or a "speed control function" which limits engine power automatically when the legal speed limit has been reached. These systems are already found on many cars on the market today, including models from Ford, Volvo and other brands.
Notes to editors:
The signatories of the letters to transport and industry ministers are:
Antonio Avenoso, Executive Director, European Transport Safety Council (ETSC); Anna-Lisa Boni, Secretary General, EUROCITIES; Professor Oliver Carsten, University of Leeds, UK; Jeannot Mersch, President, European Federation of Road Traffic Victims (FEVR); Stephen Russell, Secretary General, ANEC – The European consumer voice in standardisation; William Todts, Executive Director, Transport & Environment; Karen Vancluysen, Secretary General, POLIS Network – Cities and Regions for Transport Innovation; Geert van Waeg, President, International Federation of Pedestrians; David Ward, President, Towards Zero Foundation; Jill Warren, CEO, European Cyclists Federation (ECF)
Read the full letter.
See also ETSC's full briefing on the draft ISA technical specifications.