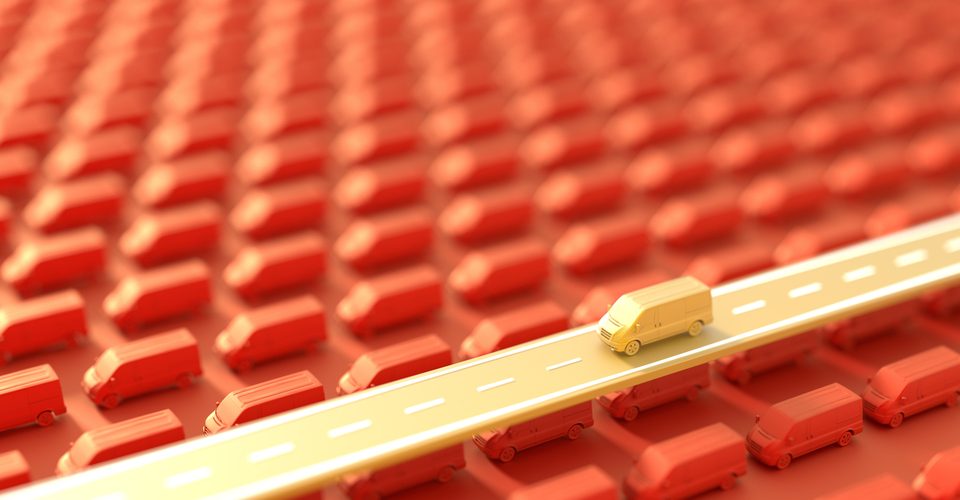 ETSC announces 2017 work-related road safety award winners
The European Transport Safety Council (ETSC) has announced the 2017 winners of the PRAISE awards, in recognition of outstanding efforts taken by companies to improve road safety at work.
The large company award goes to National Vehicle Distribution (NVD), a family-owned vehicle transportation and storage company in Ireland.  The small and medium-sized enterprise award goes to ATF, a Belgian road construction company. Jacobs, one of the world's largest construction services firms, has been highly commended by the award judges.
The winners will be honoured at a conference and award ceremony to be held in Brussels today Tuesday 24 October.
Over 25,600 lives were lost on the road in the European Union in 2016, of those a large proportion were victims of work-related road collisions. Even though the exact number is unknown in some countries it is likely that up to 40% of all road deaths are work-related.
Antonio Avenoso, Executive Director of ETSC said:
"This year's inspiring award winners demonstrate that road safety of employees is not just a company's responsibility, it also makes for good business.  PRAISE award winners have shown time and again that company-wide road safety programmes reduce insurance and fleet costs, cut employee sick days and improve customer service.
 "But companies, especially small and medium enterprises, often lack the resources and the knowledge to manage road safety more effectively. That's why it's crucial that the European Union, governments and local authorities offer the support that is so badly needed."   
Meet the winners:
Large company award:
National Vehicle Distribution (NVD), Ireland
Since its establishment in 1980, this family-owned Irish company has become one of the main suppliers of vehicle transport and vehicle storage in Ireland. An ISO-certified company, NVD provides a range of services including transportation, body repairs, pre-delivery inspections, vehicle conversions and enhancements as well as monitored 24 hour secure storage. NVD's transporters operate throughout Ireland, Northern Ireland, the UK and mainland Europe.
The PRAISE Awards judges said:
"NVD stood out in terms of their holistic approach to driver risk management. They have a huge focus on driver selection, training and ongoing management as well as strong evidence of daily interventions of a deterrent and enforcement nature with drivers to influence behaviour. A proactive company with a focus on safety, they learn from past incidents and find solutions to avoid them in the future. They also have clear performance targets and support positive reinforcement with a bonus system for drivers."
Small and medium-sized enterprise award:
ATF, Belgium
ATF is a family business close to the port of Antwerp. The company was founded in 1960 and currently employs around 100 people.  ATF provides infrastructure work for various companies, mainly in the chemical and petrochemical industry but also for the Flemish government in various cities and municipalities in and around Antwerp.
The PRAISE judges said:
"ATF have made a wide range of interventions to improve work-related road safety in their business. Their employees are actively involved in road safety plans and procedures and management have clear and good communication with the drivers."
Highly commended:
Jacobs, UK and Ireland
Jacobs is one of the largest and most diverse providers of technical, professional and construction services, including all aspects of architecture, engineering and construction, operations and maintenance, as well as scientific and specialty consulting. Our 54,000 employees in 230+ locations around the world serve a broad range of companies and organisations, including industrial, commercial, and government clients across multiple markets and geographies.
The PRAISE judges said:
"Jacobs have implemented a very successful driver safety management system with a clear focus on employee health. In particular, their innovative 'Permit to Drive' cards ensure that individual drivers are getting the risk assessment and training that they require. They have also given clear evidence of the positive effects of their management system, through a reduction in accidents and strong increase in compliance levels."
Notes to editors:
Photographs from the event will be available from the ETSC website https://etsc.eu/praiseconf2017
Follow the event on twitter – @etsc_eu #PRAISE2017
About the PRAISE project and awards
Using the roads is a necessary part of our working lives. But it's an ordinary activity that leads to an incredibly high level of injury and death. ETSC's PRAISE (Preventing Road Accidents and Injuries for the Safety of Employees) project addresses the safety aspects of driving at work and driving to work. Its aim is to promote best practice in order to help employers secure high road safety standards for their employees. The project is coordinated by the ETSC secretariat with the support of Fundación MAPFRE, the German Road Safety Council (DVR) and the Dräger Foundation.
As part of the PRAISE project, ETSC presents annual awards in recognition of organisations that have made an outstanding commitment to improving work-related road safety. The winners are chosen by an independent panel of experts appointed by ETSC.