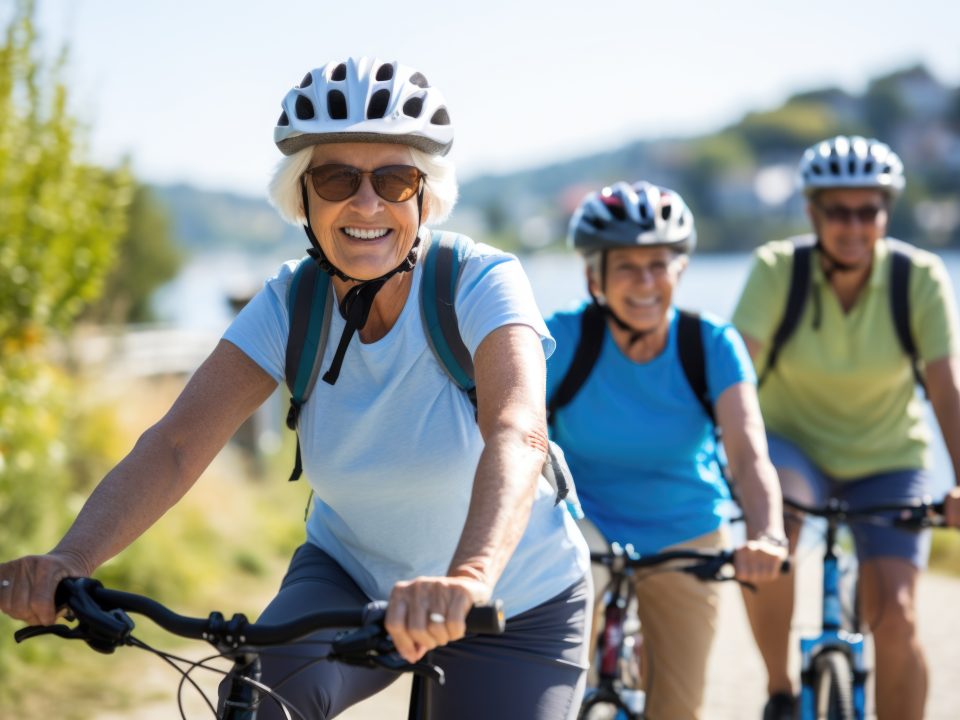 Balancing safety and independence: ETSC report highlights road safety challenges faced by older road users
The European Union and national governments must adapt road safety policy to the needs of an ageing population, improving the safety of older pedestrians and cyclists with safe, well-protected infrastructure, while ensuring that older car drivers are not discriminated against purely on account of their age.  These are the key conclusions of a new report released today by the European Transport Safety Council (ETSC) which sheds light on the vulnerabilities of older road users and calls for a comprehensive approach to ensure their safety while promoting active travel and independence.
The report highlights the heightened risk of trauma faced by people aged 65 and above in road collisions compared to younger age groups. Collisions that may result in milder consequences for younger people can have severe and sometimes fatal outcomes for older people due to their increased fatality risk associated with physical impacts.
Despite these challenges, the report emphasises that active travel offers numerous health benefits that often outweigh the potential risks of road injuries and exposure to air pollution. Research indicates that these health advantages are particularly pronounced in older age groups, helping them maintain physical fitness, reduce the risk of chronic diseases, and enhance overall well-being. The challenge for the road safety community is to improve the safety of these active modes especially for older people.
Jenny Carson, a co-author of the report said:
"As Europe's population continues to age, this report emphasises the need for a comprehensive approach to road safety for older people that balances safety measures with the benefits of active travel, independence, and mobility."
Key findings from the report include:
Recent trends in older people's road safety show an average annual reduction of 3% in older people's road mortality in the EU25 over the past decade, largely due to overall improvements in road safety.
Significant variations in road safety exist among countries, with the safest country for older people being Norway, followed by Luxembourg and the United Kingdom, while Romania, Serbia, and Bulgaria have the highest road mortality for older people.
Choice of transport mode, age groups, and specific collision scenarios significantly influence older people's road mortality.
Pedestrians and cyclists comprise a significant proportion of older people killed in road collisions, and understanding these critical collision scenarios is vital for crafting effective road safety measures.
As Europe's population continues to age, road safety policies must evolve to address the specific safety requirements of this growing demographic.
The report also highlights the often-overlooked issue of pedestrian falls within the road system, emphasising the importance of maintaining records of such incidents for promoting active mobility and enhancing road safety for pedestrians.
Regarding older drivers, the report suggests that age-based medical checks may not consistently prevent severe collisions and could lead to shifts to more vulnerable travel modes when older drivers cease driving. Earlier studies have concluded that specific medical conditions, substance abuse, mental disorders, epilepsy and diabetes are more important factors than age, and affect drivers of all ages.
This finding is timely because the European Commission recently proposed that all drivers should be subject to regular medical checks after the age of 70 in a draft revision of EU rules on driving licenses. ETSC says such a blanket rule is discriminatory. Instead, family doctors should use a screening protocol across all age groups to flag medical conditions that could impact fitness to drive.
The report underscores the importance of well-maintained and safe road infrastructure, traffic calming measures, and signal-controlled pedestrian crossings to enhance the safety of older road users.
Download the report from: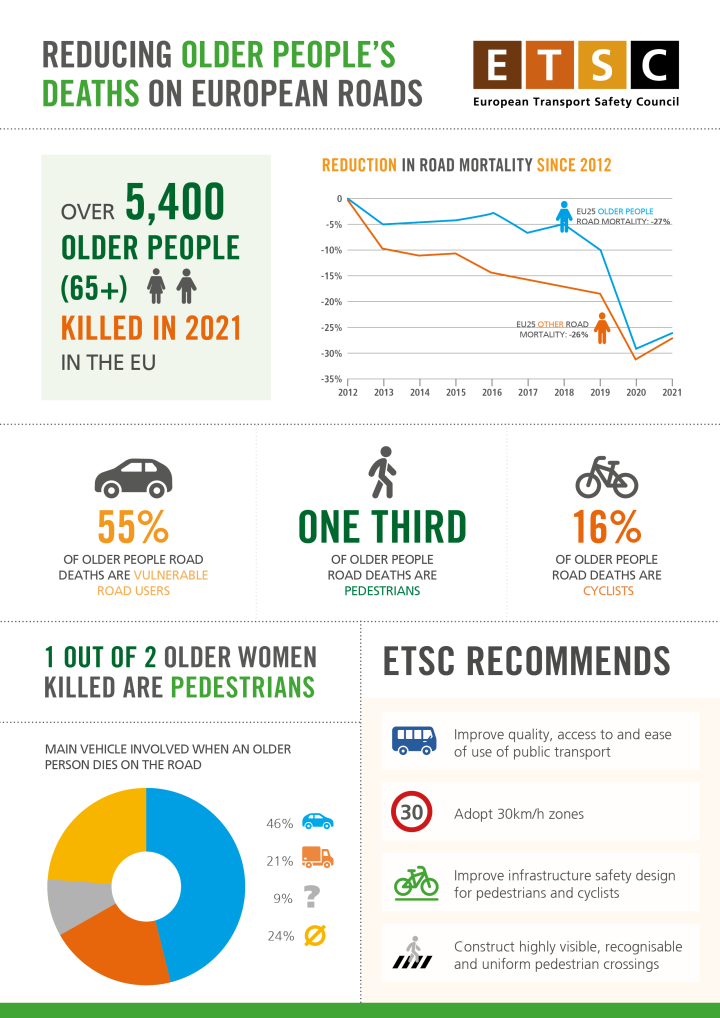 Notes to editors:
ETSC is an independent, non-profit organisation dedicated to reducing the numbers of deaths and injuries in transport in Europe.
ETSC's Road Safety Performance Index (PIN) programme receives financial support from the German Road Safety Council (DVR), Toyota Motor Europe, the Swedish Transport Administration, the Norwegian Public Roads Administration, CITA – the International Motor Vehicle Inspection Committee and Fundación MAPFRE.