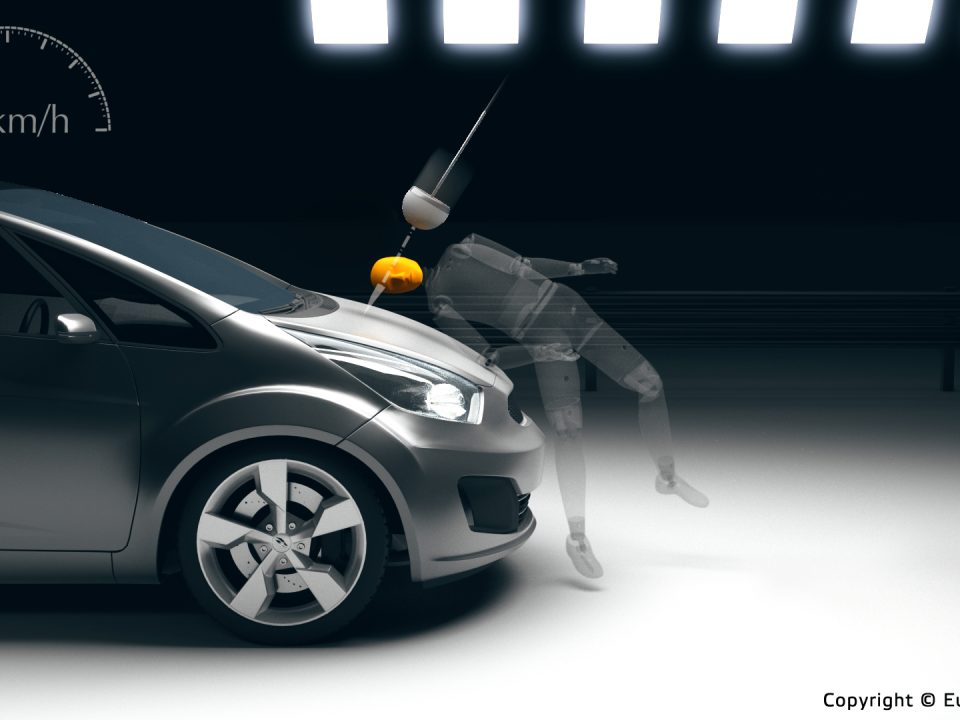 Europe's car safety framework needs 'overhaul'
Vehicle safety innovations are still benefitting too few road users in Europe due to an over-reliance on a voluntary testing programme rather than regulatory standards, according to a new report by ETSC.
For almost twenty years, increases in levels of car safety in Europe have been driven mainly by the voluntary Euro NCAP programme which awards the safest cars with a 5-star rating. But according to new data, only around half of new vehicles sold in 2013 had been awarded 5 stars by Euro NCAP during the 2010-13 testing cycle. One popular model, the Dacia Duster, received only 3 stars and performed particularly poorly in pedestrian safety crash tests.
The authors found marked differences between vehicle brands with Dacia's poor performance overall on pedestrian protection being equalled by Land Rover and Jeep during the period covered. Volvo cars, in contrast, outperformed all manufacturers, on average, in every field of vehicle safety including occupant, child and pedestrian protection as well as in safety-assist systems.
Car occupants have also benefitted more than other road users from safety improvements according to ETSC, as cars have generally performed worse on pedestrian protection criteria than on adult or child occupant protection. ETSC is calling for vulnerable road users to also benefit from tighter vehicle safety standards through higher minimum standards for pedestrian protection from both regulators and from Euro NCAP.
The report also found that green vehicle tax shifts in countries including Denmark and the Netherlands had failed to take account of safety, leading to higher sales of cars with lower safety ratings. ETSC advises countries to offer tax incentives only to 'clean and safe' vehicles. Five-star models in the fuel efficient supermini class include the Ford Fiesta, Toyota Yaris and all-electric Renault Zoe.
According to ETSC, the main block to faster progress on safety is that legally-mandated safety standards are years out of date. A car that only meets the current minimum safety standards in the EU would receive a zero-star rating today from Euro NCAP according to the report. Euro NCAP only tests a selection of vehicles each year, and also does not test every variant of each model.
Antonio Avenoso, Executive Director of the European Transport Safety Council said:
"While Europe is still a leader in vehicle safety, this report shows that the benefits are far from being equally spread. We need an overhaul of vehicle safety in the EU to ensure that the latest advances benefit the many not the few. The starting point must be bringing today's regulatory tests and required standard equipment bang up to date.
"In the past, it has taken twenty years for technologies such as Electronic Stability Control (ESC) to be made mandatory. This should not be allowed to happen again with the new generation of lifesaving tech such as Automated Emergency Braking, Intelligent Speed Assistance and passenger Seat Belt Reminders."
The EU is set to revise vehicle safety standards, as well as the vehicle 'type approval' process over the coming year. ETSC is calling for a range of vehicle technologies including Intelligent Speed Assistance, Advanced Seat Belt Reminders and Automated Emergency Braking, to be made standard equipment and for mandatory crash tests to be upgraded to match the current Euro NCAP tests.
ETSC also says more work needs to be done to compare real world collision outcomes to laboratory crash test results. While the report found that several studies have found a correlation, on average, between higher Euro NCAP ratings, and a reduced chance of death or serious injury, the relationship is not true in all cases.
Real world collision investigation will become increasingly crucial as more cars are fitted with advanced technologies such as advanced emergency braking and lane assist because these systems are currently only tested in a limited and standardised way by Euro NCAP.
Henk Stipdonk, co-chair of the ETSC PIN programme and Head of Road Safety Assessment at SWOV, the Dutch institute for road safety research commented:
"To get a better understanding of how advanced driver assistance systems are behaving in the real world, we need to get a picture from across Europe of precisely what happens when these vehicles are involved in collisions. This will require in-vehicle electronic data recorders and a pan-European database of collision investigations. With this information, we can ensure that these systems are optimised and improved over time to save even more lives.
"Real world investigation, and shared data across Europe, will also enable regulators to react faster to pick up potentially lethal safety problems. For automated vehicles, in-depth real world collision investigation will become absolutely essential, that's why regulators need to move fast."
ETSC is calling for an open EU database of collision investigation information, that could be funded by a nominal contribution on the cost of every vehicle sold.
How Safe Are New Cars Sold in the EU?: An Analysis of the Market Penetration of Euro NCAP-Rated Cars. Available from: https://etsc.eu/PINflash30.
Notes to editors:
26,000 people died on Europe's roads in 2014 and 200,000 were seriously injured;
Videos by ETSC explaining the benefits of Intelligent Speed Assistance (ISA) and Advanced Seat Belt Reminders can be viewed on YouTube.