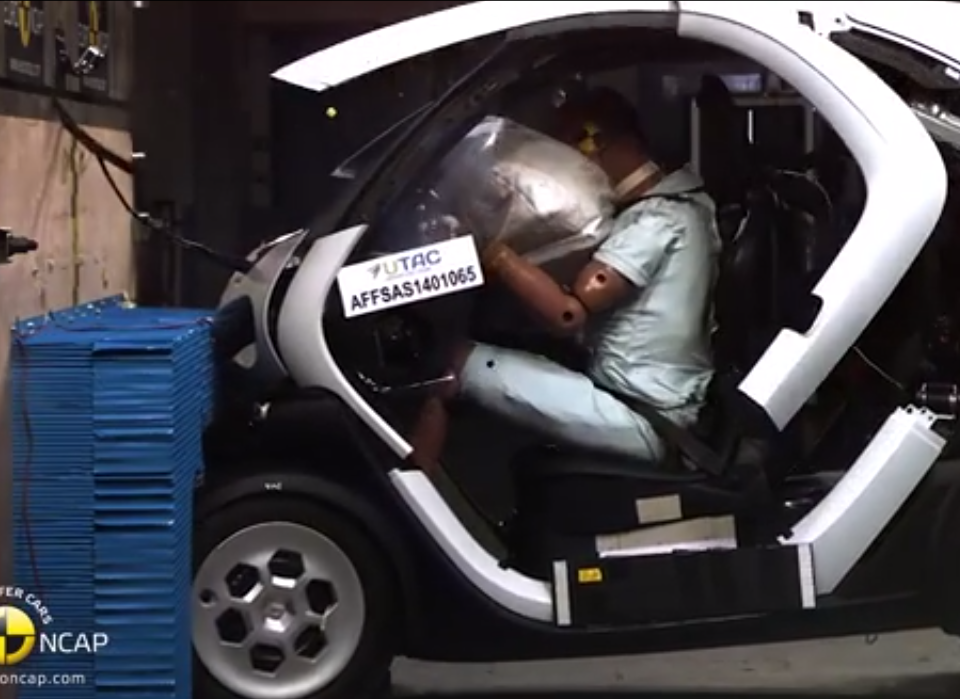 Quadricycle safety 'way below' cars says EuroNCAP
Four car-like vehicles classed as 'quadricycles' have performed poorly in tests carried out by the vehicle safety organisation EuroNCAP with some showing serious risks of life threatening injuries.
Quadricycles are a new class of sub-compact vehicle that has emerged in Europe in recent years. Although street-legal, quadricycles do not have to pass any of the rigorous crash tests to which cars are subjected.
The tested models were the Club Car Villager 2+2 LSV, the Renault Twizy 80, the Tazzari ZERO and the Ligier IXO J LINE 4 Places. All are fully type-approved for use on public roads, yet in frontal and side impacts at 50km/h, all showed severe safety problems. The tests differ from Euro NCAP's normal procedures and the results of the quadricycles cannot be compared with the star ratings published for passenger cars.
Michiel van Ratingen, Euro NCAP Secretary General said:
"It's worrying to find that, because crash safety tests are not required by law, quadricycles show a level of safety that is way below that of cars. Even though they meet legislative standards, these vehicles lack the minimum safety equipment which has become commonplace on passenger cars sold in Europe."
While some vehicles scored better than others, all four quadricycles showed serious safety problems. The vehicles were scored primarily on data from crash dummies but penalties were also given for poor performance of the structure or restraints. The Ligier and the Tazzari had major failings of their restraint systems in the frontal test. In the Ligier, the upper connection of the driver's seatbelt pulled out of the structure, leaving the dummy unrestrained and leading to a high risk of injury. In the Tazzari, the driver seatbelt broke and the driver's head hit the steering wheel with a force that indicated a high risk of serious or fatal injury. The structure of the Club Car virtually collapsed in the frontal impact. The Renault Twizy – the only vehicle of the four tested to have an airbag as standard – scored best but its stiff structure and restraint system resulted in what EuroNCAP described as some 'dangerously high dummy readings'.
Antonio Avenoso, Executive Director of ETSC said:
"It's very important that consumers understand the risks involved whatever type of vehicle they use. Clearly the fact that these kinds of vehicle can look quite a lot like a small city car means that potential buyers could be confused about the level of safety they offer. What's obvious from these tests is that quadricycles currently offer far less protection than cars.

"One of the reasons is that the European safety standards for these vehicles have not been developed to the same level as for cars. As the market for quadricycles develops, which is likely, it's important that Europe stays ahead of the game and puts in place stricter safety requirements to drive innovation in safety technology for this type of vehicle."