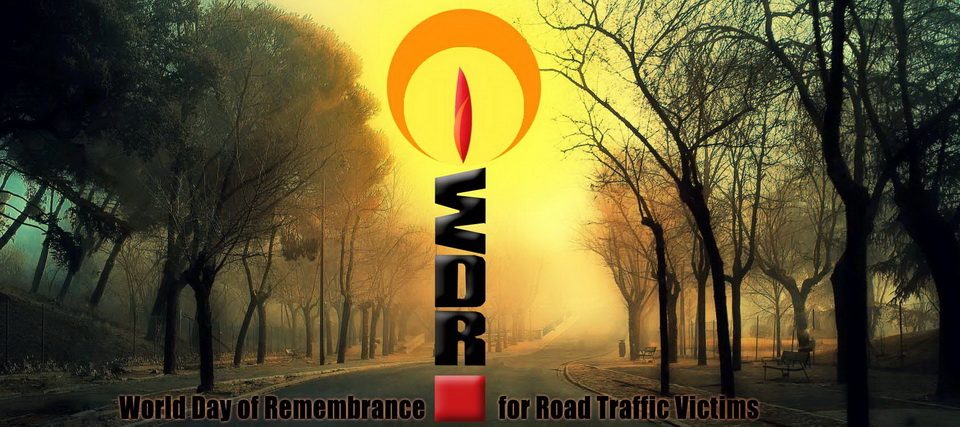 World Day of Remembrance for Road Traffic Victims 2014
The World Day of Remembrance for Road Traffic Victims (WDR) is commemorated on the third Sunday of November each year – to remember the many millions killed and injured on the world's roads, together with their families and many others also affected, as well as reflect on the tremendous burden and cost of this daily continuing disaster.
Ban Ki-moon, UN Secretary-General said:
I am continually inspired by the potential of youth to transform society. The World Day of Remembrance for Road Traffic Victims is a sobering reminder that crashes are the leading cause of death for people 15 to 29 years old.

Road traffic crashes also claim many younger victims, with more than 500 children killed each day as they travel to and from school, playgrounds and the homes of family and friends. Millions of other people of all ages are seriously injured.

This Day is about compassion and prevention. We mourn those who have perished on the roads. We console grieving families and friends. We raise awareness of the economic hardship so often faced by the bereaved…

On this World Day of Remembrance for Road Traffic Victims, let us re-commit to making roads that are safe for all.
Jeannot Mersch, President of the European Federation of Road Traffic Victims said:
Excessive speed is a key contributory cause of road deaths and injuries, hence technologies like Isa or Lisa that design out speeding would potentially provide the safest vehicles – both to people outside and occupants. We really need now these technologies that reduce speed and contribute effectively to reduce severe injuries and save lives.
Video message by the European Commissioner for Transport Violeta Bulc.
Visit the official website.
One minute silence video by FUNDACIÓN MAPFRE.