Last Night the EU Saved My Life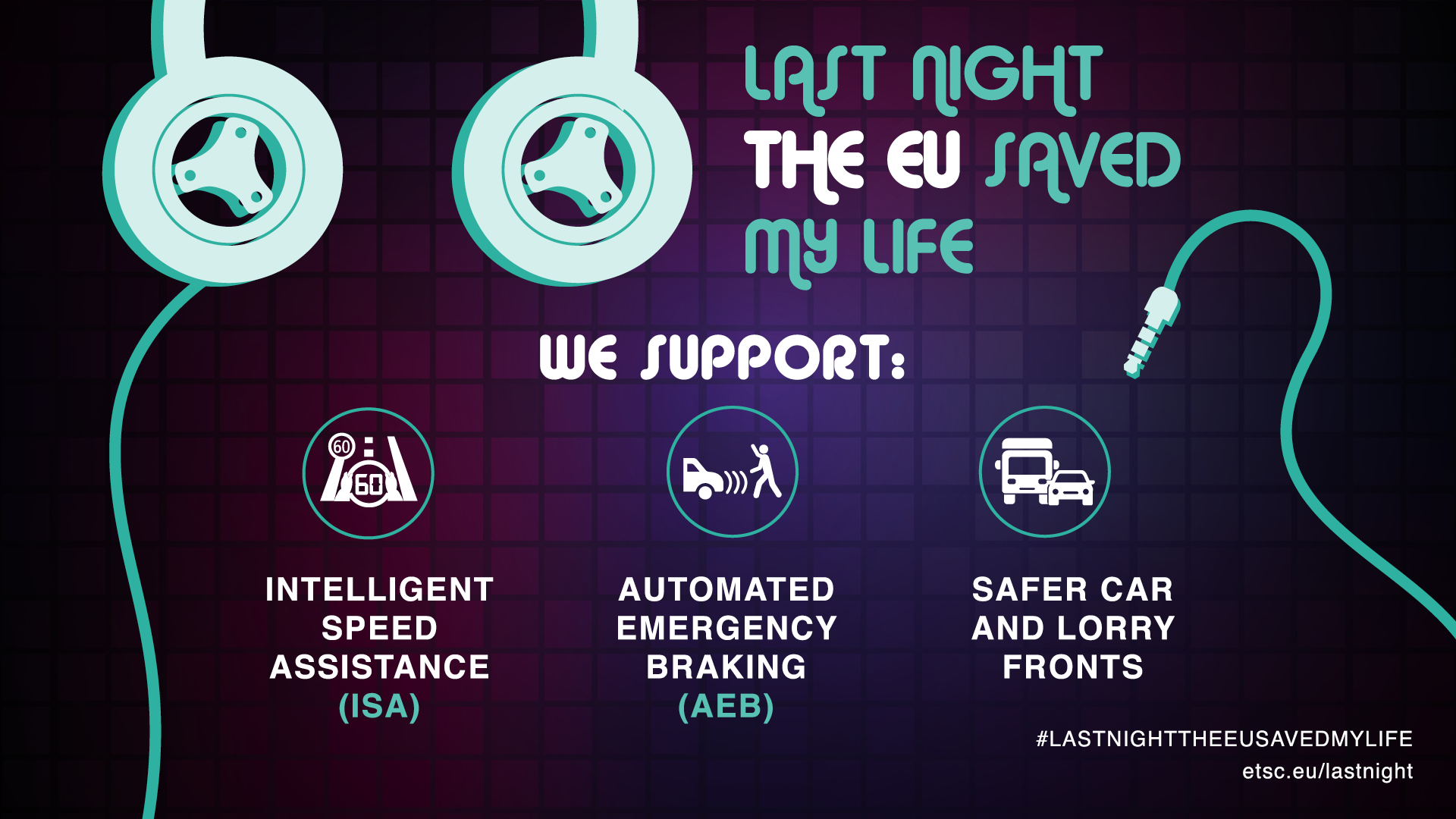 The EU has the exclusive authority to set minimum safety standards for all new vehicles sold on the EU market. EU crash safety tests, and mandatory inclusion of technologies such as seat belt reminders and Electronic Stability Control have saved thousands of lives. The standards were last updated in 2009.
The revision of the "General Safety Regulation", published on 17 May 2018, includes a set of new vehicle safety measures (see below), including mandatory installation of new driver assistance technologies, as well as revised minimum crash testing standards and measures to protect pedestrians and cyclists. The measures are expected to come into force from 2022 onwards.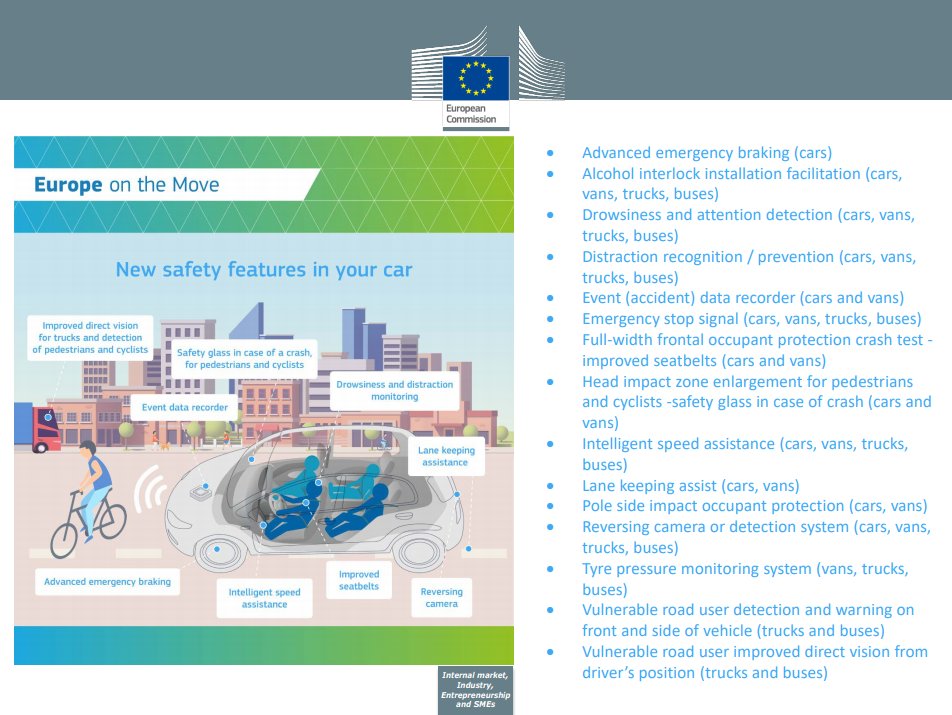 ETSC supported all of the above measures, in particular those with the most potential to reduce death and injury such as overridable Intelligent Speed Assistance (ISA) and Automated Emergency Braking (AEB). Both of these technologies are already widely available on the market but regulation is needed to make sure the benefits are extended to all new vehicles as standard.
According to analysis carried out for the European Commission by TRL, the UK transport research laboratory, the proposed vehicle safety measures could prevent around 25,000 deaths across all vehicle categories between 2022 and 2037. See page 13 of https://publications.europa.eu/en/publication-detail/-/publication/ed4aff17-49c5-11e8-be1d-01aa75ed71a1/language-en
---
What is Intelligent Speed Assistance (ISA)?
ETSC is calling for ISA systems that use a sign-recognition video camera and a GPS-linked speed limit database to help drivers keep to the current speed limit. Such a system will limit engine power when necessary to help prevent the driver from exceeding the current speed limit. The system can be overridden, or temporarily switched off.  As well as improving road safety, reducing emissions and saving fuel, the system can help drivers avoid speeding fines. Carmakers including Ford, Honda, Jaguar-Land Rover, Mercedes, Opel-Vauxhall, Peugeot-Citroen, Renault, and Volvo already offer ISA either as standard or as an option on selected models.  Read more…
---
To garner political support for the new standards, ETSC ran a campaign during 2018 and 2019 called "Last Night the EU Saved My Life".
A final, but provisional deal, on the new legislation was agreed by Members of the European Parliament and the Member States of the European Union in March 2019 – but is still subject to confirmatory votes.
For further information:
ETSC short briefing on the General Safety Regulation:
https://etsc.eu/wp-content/uploads/2017-05-EP-short-briefing-gsr-pp.pdf
ETSC Intelligent Speed Assistance (ISA): explanatory video, list of current models fitted with ISA and a list of main questions and answers on the technology: https://etsc.eu/intelligent-speed-assistance-isa/
European Commission legislative proposal:
http://eur-lex.europa.eu/legal-content/EN/TXT/?uri=CELEX:52018PC0286
European Commission factsheet on safe mobility
https://ec.europa.eu/transport/sites/transport/files/3rd-mobility-pack/3rd-mobility-pack-factsheets-safety.pdf#LastNightTheEUSavedMyLife
#LastNightTheEUSavedMyLife