24 March 2020, Safer walking, safer cycling, safer roads: can Belgium be a leader in Europe? Brussels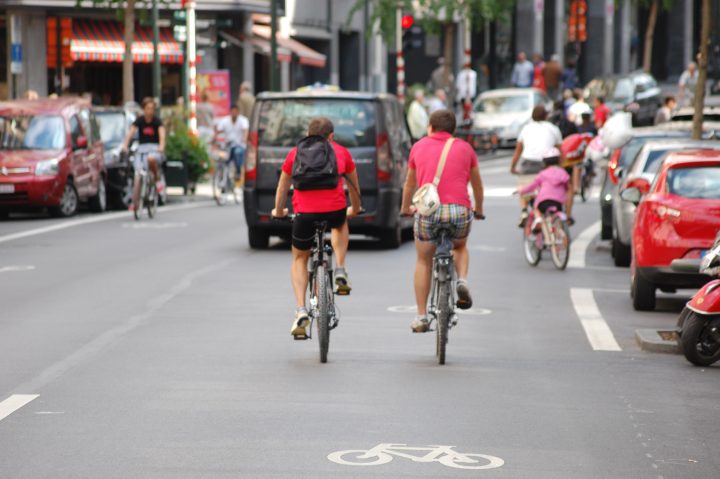 Safer walking, safer cycling, safer roads: can Belgium be a leader in Europe?
Residence Palace, Rue de la Loi 175, 1048 Bruxelles
Tuesday, 24 March 2020, 13.30 – 18.00
Brussels Mobility, Walloon Road Safety Agency (AWSR), Flemish Foundation for Traffic Knowledge (VSV), Vias Institute and the European Transport Safety Council (ETSC) invite you to a high level Road Safety Performance Index debate
During the event, national and international experts will share their countries' or cities' experience in improving pedestrian and cycling safety. The event will feature a panel debate on how to further improve pedestrian and cyclist safety in Belgium.
The PIN Talk will bring together government officials, decision makers, road safety experts, researchers and NGOs.
Click here to download the provisional agenda.
Simultaneous interpretation to and from Dutch-French-English will be provided.
Photo credits: European Cyclist Federation
————————————
Une circulation plus sûre à pied, à vélo et sur les routes  : la Belgique peut-elle être un modèle en Europe ?
Résidence Palace, Rue de la Loi 175, 1048 Bruxelles
Mardi 24 mars 2020, 13h30 – 18h00
Bruxelles Mobilité, l'Agence Wallonne de la sécurité routière (AWSR), la Fondation flamande pour la connaissance du trafic (VSV), l'Institut VIAS et le Conseil européen pour la sécurité routière (ETSC) vous invitent à un débat de haut niveau sur les indicateurs de performance en matière de sécurité routière
Au cours de l'événement, des experts nationaux et internationaux partageront l'expérience de leur pays ou de leur ville en matière d'amélioration de la sécurité des piétons et des cyclistes. L'événement offrira un débat d'experts sur la manière d'améliorer davantage la sécurité des piétons et des cyclistes en Belgique.
Le PIN Talk réunira des fonctionnaires, des décideurs politiques, des experts en sécurité routière, des chercheurs et des ONG.
Cliquez ici pour accéder à l'agenda provisoire de la conférence.
L'interprétation simultanée de et vers le néerlandais-français-anglais sera assurée.
————————————
Veiliger te voet en per fiets, veiligere wegen: kan België toonaangevend zijn in Europa?Residence Palace, Wetstraat 175, 1048 Brussel
Dinsdag 24 maart 2020, 13:30 – 18:00
Brussel Mobiliteit, het Waalse Agentschap voor Verkeersveiligheid (AWSR), de Vlaamse Stichting Verkeerskunde (VSV), Vias Institute en de Europese Raad voor Transportveiligheid (ETSC) nodigen u uit in Brussel voor een debat op hoog niveau over verkeersveiligheid – de PIN Talk.
Nationale en internationale experts delen tijdens dit evenement hun ervaringen met het verbeteren van de verkeersveiligheid voor voetgangers en fietsers in een stedelijke context.
De PIN Talk brengt beleidsmakers, overheidsmedewerkers, lokale besturen, verkeersveiligheidsexperts, onderzoekers en NGO's samen.
Klik hier om de voorlopige agenda te downloaden. Registreren kan tot en met 20 maart 2020.
Vertolking van en naar Nederlands, Frans en Engels zal verzorgd worden.