PRAISE
Preventing Road Accidents and Injuries for the Safety of Employees
Promoting best practice in road safety at work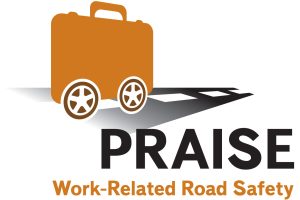 Using the roads is a necessary part of our working lives. But it's an ordinary activity that leads to an incredibly high level of injury and death.
ETSC's PRAISE project addresses the safety aspects of driving at work and driving to work. Its aim is to promote best practice in order to help employers secure high road safety standards for their employees.
It is estimated that in Europe six out of ten work accidents resulting in death are road crashes, including both crashes while driving for work and commuting crashes. Source: Eurogip
PRAISE aims:
advance the need for work-related Road Safety Management and provide the know-how to employers who must take on that challenge;
raise the work-related road safety standards of EU Member States and carry out advocacy work at the EU level;
communicate the message that work-related road safety should include road safety at work (driving on duty) but also road safety to work (commuting).
PRAISE is co-ordinated by the ETSC secretariat with the support of Fundación MAPFRE, the German Road Safety Council (DVR), the Belgian Road Safety Institute (IBSR) and the Dräger Foundation.

PRAISE Awards 2016
If your organisation has made improving road safety a priority, we want to know. Apply now for the ETSC PRAISE Awards 2016.
Publications
For earlier PRAISE publications, please see the archive of the previous PRAISE project website.